We Know How To Mix It Up!™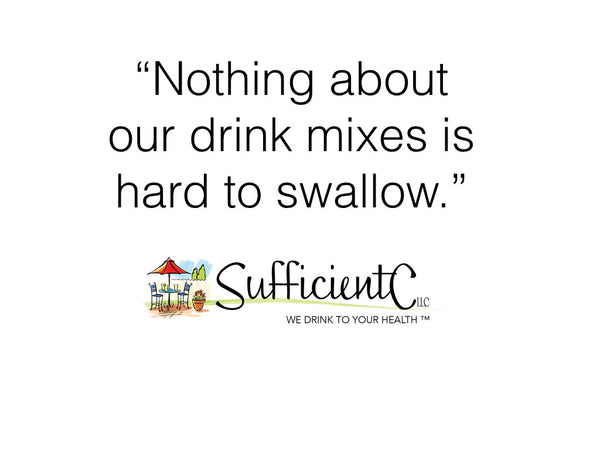 PROFESSIONAL TESTIMONIAL FOR BOTH SUFFICIENT-C® and GLUTENIZER®
"In the three years that the Riordan Clinic has carried Sufficient C in our Nutrient Store we continue to be surprised with just how popular it is with our patients. Being well known for our work with Vitamin C we have a whole line up of Vitamin C options. Sufficient C has quickly risen to be one of our top selling products - not just for Vitamin C but in general! We have samples at each of our water stations and get such positive feedback on the flavor as well as efficacy. We are proud of the partnership between the Riordan Clinic and Sufficient C. We are proud to partner with Caralyn and the Sufficient C brand for a great product, a trustworthy business relationship and unprecedented customer service."
--
Erin Manning, MBA | Director of Marketing | Riordan Clinic
Since I have introduced Sufficient-C into my practice, I have filled a void that existed for treatment of a multitude of symptoms in patients with chronic illness.   In my integrated medical practice I have patients dependent on pharmaceutical medications who whenever possible are avoiding adding any additional medications to their regimen.  Often, these patients are fructose intolerant and the Sufficient-C is an excellent source of high dose Vitamin C that is well tolerated by their digestive tract and their taste buds!

I have also had excellent feedback from patients using the Glutenizer.  Young children have responded well to the taste and it has given those with gluten intolerance more flexibility with foods they can eat at birthday parties and school events without feeling excluded.Thank you for creating these great products.

-- Thomas L. Taxman MD Director of Gastroenterology Institute for Women's and Children's Health Lyndhurst, Ohio 
~~~~~~~~~~~~~~~~~~~~~~
I prescribe a lot of vitamin C. There are many people in my practice and my family who refused to take plain sodium ascorbate. Sufficient-C solved that problem. Because it is an amazingly tasty combination of natural flavors, ascorbic acid and caffeine free green tea extract, it is a perfect way to get vitamin C without all the binders and artificial sweeteners. I have suggested this product to hundreds of people from very young ages to the age of 85: Some very finicky people and not one person has said they didn't like it-- everyone loves it. The flavor is so amazing that it satisfies every pallet. The lemon peach design with the Stevia is perfect because it does not have that normal Stevia aftertaste. It is literally the best healthy drink I've ever encountered. I highly recommend this to children and adults. It is especially helpful when requiring higher doses of sodium ascorbate which can be easily blended in to mask the salty taste. -- Suzanne Humphries, M.D.Board certified internist and nephrologist 
Author: Dissolving Illusions and Rising From The Dead
~~~~~~~~~~~~~~~~~~~~~~
IMMUNE BOOSTER- I could fill a book with suggestions for immune boosters and the old favorite Vitamin C would still come out on top. The issue for many with Vitamin C is that they find it difficult to tolerate the recommended dose necessary for the highest benefit. Introducing Sufficient-C® Lemon Peach Immune-Ade drink mix, made by the same company as Glutenizer®, they have managed to pack into each dose 4,000 mg of non-GMO Vitamin C along with generous doses of L-Lysine, Bromelain and a 94% pure Green Tea Extract; all in a satisfying, natural stevia sweetened formula that is non-GMO, gluten and sugar-free. I am so impressed with the product that I have included it in the RESOURCES section of my upcoming book "MASTERING ALTERNATIVE MEDICINE, Your Family's Guide To Wellness.
Elena Upton, PHD and Author of MASTERING ALTERNATIVE MEDICINE, Your Family's Guide To Wellness.
 SUFFICIENT-C® REVIEW
I am an avid health nut, and If I could give this product 20 stars I would. I Work at a medical center and it was recommended to me by one of our nurses, I can say honestly I have not gotten sick since using it, which is now over 4 months. I have ordered twice from Amazon and the first shipment took a long time, but I have since heard they sometimes run out of stock, the second order came quickly. If you are even considering this product, just get it, it's worth it. - Lindsy Brown - April 29, 2016
SUFFICIENT-C® REVIEW
Best Vitamin C on the Planet! 3 drinks of this amazing TONIC removed stubborn bronchitis/pneumonia or nasty cough that's been plaguing me for years. Now even mucinex was working on curing my nasty chronic cough, so I gave i this a try after doing some research. It's the best. I will be buy again!! The lemonade peach tastes like diet sprite.
Bebe K. - November 18, 2018 
SUFFICIENT-C® REVIEW
The flavor of lemon peach is really nice! I liked this product for how quickly you can easily consume a mega dose of vitamin c. Wayyy better taste than emergen-c/airborne and dissolves really easily even in cold water. Jefferson - February 8, 2017
SUFFICIENT-C® REVIEW
I'm so glad that I gave this a try..its only been a few days taking full dose and I feel amazingly, less stressed and more alert. I upped it today to 3 scoops to see how that feels(see if I get any bowel issues). I think that as a society we are extremely deficient in these simple yet vital nutrients. Thank you! Oena -  September 21, 2016
SUFFICIENT-C® REVIEW
My favorite way to take vitamin C. Suz - August 14, 2016
SUFFICIENT-C® REVIEW
No doubt, this is the best vitamin C powder on the market since I have been tried sooo many different brand of vitamin C powder. It was tasty, easy on the stomach, None GMO, have green tea extract without caffeine, L-lysine hydrochloride and bromelain. But I still have no opportunity to test how effective it helps with cold/flu symptom(knock on wood). I will order more if it really help me to avoid the nasty bugs. Owen - January 28, 2016
SUFFICIENT-C® REVIEW
Absorption, Absorption, Absorption folks! This one is a keeper. You can taste the stevia in it a little bit and it's not bad, pretty good IMO. If it's a bit to strong I just add a little water to my taste and WahLah. Tangy taste of lemon and peach and on ice it's pretty darn good! FULLY dissolves in water without any grit - NO GRIT - WOW!

Comparing to a pill form or a chewable tablet this is much easier on your digestive system and you are getting much higher if not 100% of the VIT C absorbed. I have noticed sustained energy throughout the entire day without peaks and valleys, I stopped having coffee after work because I don't need a pick me up now.

I want to say this goes down super smooth, it's like drinking a lemonade with peaches. Cant wait until my next glass...it's a refreshing drink.
I have tried other forms of powder VIT C and I find this one superior with no grid factor, nice taste and not the super tartness of others. I will definitely be buying this one again. - Solar Heater - February 18, 2016
GLUTENIZER® REVIEW
"My daughter has been struggling with leaky gut and Glutenizer has been a tremendous help in her healing process". E. Soltis - June 26, 2017
GLUTENIZER® REVIEW
This product has changed my life! I have gluten sensitivity so when I know I am going to come in contact with some wheat products, I bring my Glutenizer and drink up! It has relieved the bloating and uncomfortable feeling that I get when exposed to too much gluten/wheat. I love this product! - Mary Robertson -  January 15, 2017
GLUTENIZER® REVIEW
A Plus Product! Although I am not very sensitive to gluten, I tried this product hoping it would help my indigestive and bloating problems and I could not be happier. I drink Gluentizer before lunch and dinner and my stomach issues have already been improved after only a couple weeks! I am glad I found a natural remedy for the constant pain I was having! - Kerri G. - June 30, 2017